I am not a writer.
Although I am now, apparently, because here's
two books that I am extremely proud of…
(And I'm currently writing my third!)
You have two to choose from...
A Guide To Live More Awesome
"This book will not make you more money, get you a new job, find you a lover or help you lose weight.
However, it will help you understand and improve yourself and your place in the World / Universe…
This may, in turn, make you more money, get you a new job, find you a new lover and help you lose weight."
'Mental Health' is a term we don't like talking about, but it's also something we all have. Jimi lays out its importance and tells amusing and heartfelt stories about his own life and the work he's done to get himself mentally well and super awesome.
Yes, this guide is about mental health, but it's actually about life and our place in it. If we had skills to help us better navigate it then we'd all be better off!
Read this guide… Learn some new skills, new perspectives and how to live a more awesome life…
–
110 pages, full colour, great stock, pretty pictures, awesome content…
Paperback: NZD $21 + postage ($6 courier throughout NZ, overseas extra)
Digital Package: NZD $9 (Get the epub, pdf and audiobook formats)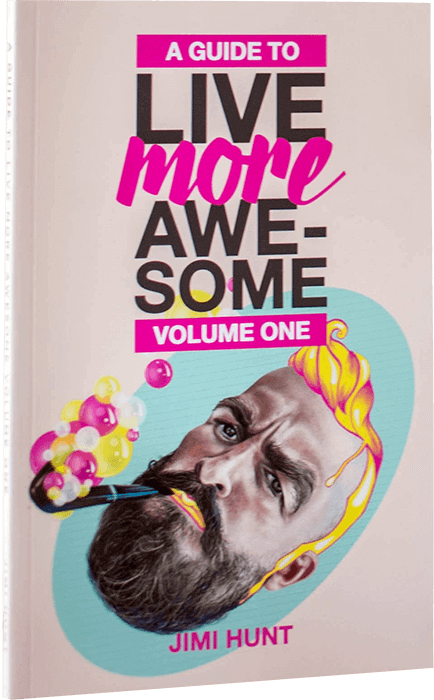 A Bit Mental
Jimi Hunt is a man who has spent most of his life doing ridiculous things for his own amusement. Things like building the World's Biggest Waterslide, playing golf through the streets of downtown Auckland and holding an alternative summer Olympics including events such as sandcastle building and frisbee golf.
But what none of his friends knew was that Jimi had been silently battling with depression. It was eating him alive from the inside, affecting his business, losing him friends and slowly, painfully destroying his marriage.
Disillusioned with the help and advice he received, he read that having a goal could help with depression. Five minutes later Jimi set his goal and announced it to the world — he would travel the entire 425km length of the Waikato River on an inflatable mattress. Loneliness, 21,000 people following the journey on Facebook, chancing upon a dead body in the river, unbridled kindness from strangers, physical pain and crazy psychic predictions are just some of the strange tales from the river.
This book is one of the only books you'll ever read about depression that won't be bloody depressing!
–
64,000 black and white words with 16 full colour pages of pretty pictures…
Paperback: NZD $34.95 + postage ($6 throughout NZ, overseas extra)