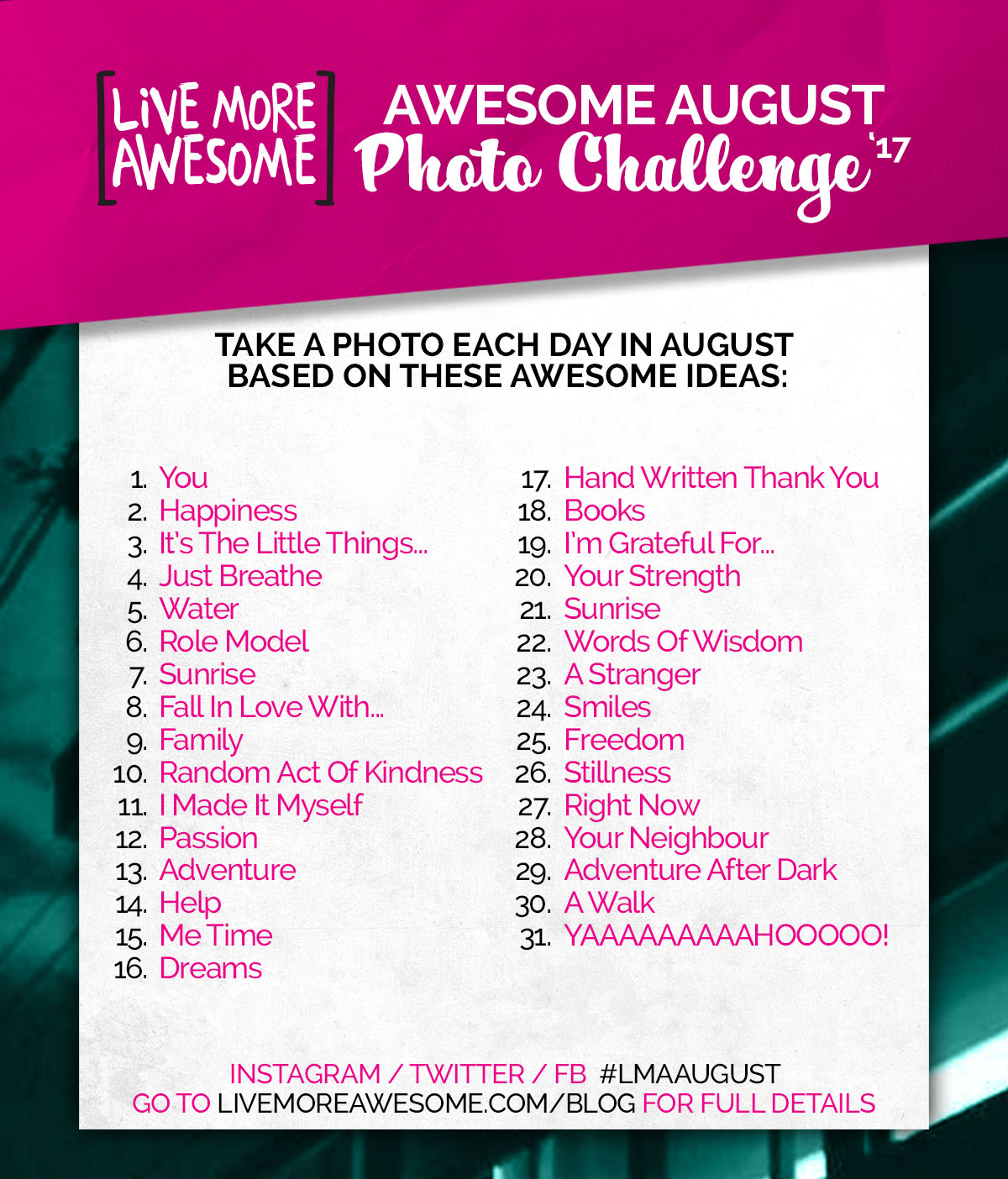 #LMAAugust 2017
*The Live More Awesome site is having a bit of trouble at the moment, so the info will just be hosted here on my personal site for the meantime… Thanks for your understanding.*
First thing you need to know is to follow Live More Awesome on Instagram here and use the hastag #LMAAugust to tag your photos and look at other peoples.
So… Why do this?
There are actually a few reasons. One, it will be fun. Two, people are happier when they show gratitude and appreciation for the things in their lives. Many studies have also shown that images are a more powerful way to do this than words. So, we made a list of 31 things to take photos of that will hopefully make you appreciate the things that you have, but also highlight some of the key things that make people happier in their lives. And three, most of us like taking photos so this is an excellent way to hone your skills with a purpose that gets you 31 interesting photos at the end of it. It doesn't matter if it's on your $5000 DSLR or your cheap camera phone, these days great pictures come from everywhere!
Here's How It Works…
Take your photo on the day as it corresponds on our list.
This project will live predominantly on Instagram, but also on Twitter and Facebook, so what you need to do is take the photo and upload it to your favourite one (or all) of those social media platforms. If you post it to Facebook, remember, you MUST make the post public and tag #LMAAUGUST. This will allow us to see the photo so we can include it in our 'best of' posts. If you upload it to Twitter or Instagram then just tag it with #LMAAUGUST. Please upload the best quality photo you can. The best photos will be collated and shared in our update posts.
What Do I Take Pictures Of?
Each Photo Explained:
1. You – Who are you? What are you like? Post a picture of YOU, right now at this moment in time.
2. Happiness – Happiness can be found by focusing on what we have, and not on what we don't have.  Take a look around you and find what brings you happiness, and then, take a picture of it!
3. It's The Little Things – We're always trying to look at the 'big picture', try looking at the little one. According to Trinity Roots 'it's the little things that really matter'… Check out the video.
4. Just Breathe – Stop. Take a minute. Breathe. What do you see? What do you look like?
5. Water – Life. Drink it, bathe in it, play in it and take a photograph of it.
6. Role Model – Who out there is a really awesome influence in your life, we'd love to meet them.
7. Sunrise – Sometimes getting up is the hardest thing, but, the sunrise is enjoyed by so few. Make yourself one of those people today.
8. Fall in love with… – What's got you feeling all enamoured at the moment, don't be shy!
9. Family – Family, however you want to define it, take a picture of yours.
10. Random Acts of Kindness – Surprises are cool! Have some fun with this one and inject some extra happiness into yours and someone else's day.
11. I Made It Myself – Making stuff is awesome. Showing it off to us is 'awesomer'.
12. Passion – Passion can drive you to extraordinary things… What's yours?
13. Adventure – Everyone could do with a little more adventure, even if it's just a mini one in your own neighbourhood… Go!
14. Help – Most of us find it very hard to ask for help. Do it. Ask someone for something that you need help with.
15. Me time – You should be making some of this for yourself every day, make sure you do it AT LEAST for today!
16. Dreams – Dream job, dream holiday, dream you had last night.  Tell us about your dreams in a picture.
17. Hand Written Thank You – We don't say thank you enough. Doing it in writing makes it extra special… Thank someone.
18. Books – Growth, learning, knowledge, entertainment; books have it all. What are you reading?
19. I'm Grateful For – What's the best thing that happened today, big or small, it doesn't matter, just show us, we'd love to share the moment.
20. Your Strength – We can draw on our strengths in times of weakness.  What's your greatest strength?
21. Sunrise – It's a magical time of the day to be grateful and reflect. It's also special because much fewer people see them than sunsets!
22. Words of Wisdom – We love hearing your advice – share your best words of wisdom.
23. A Stranger You Met Today – Very few strangers are actually dangerous! A stranger may be your new best friend or love of your life. Meet one new person today.
24. Smiles – It's almost impossible not to smile back at someone who is smiling at you. Go catch some smiles…
25. Freedom – You are free to do whatever on this one. What is freedom?
25. The Future – It's coming, what are your plans and ideas.
26. Stillness – Still yourself. Still the world.
27. Right Now – Right now, this moment, it's the only thing that matters.
28. Your Neighbour – You never know when you might need to borrow a cup of sugar, so today get out there and introduce yourself to the neighbour you don't know, take a picture with them and make your local community that little bit better.
29. Adventure After Dark – Take yourself on a little night time adventure to celebrate almost finishing Awesome August.
30. A Walk – Walks are great for the mind, body and soul.  Take us on one. Need some inspiration? Check out this site
31. YAAAAAAAHHHHHHHHOOOOOO! – You've finished, just one more photo of some awesome!
And last, but not least, we would really like to get this photo adventure out there as much as we can, so if you would be so kind, please share this page or the image itself with your friends.
Love you long time.
Jimi.